Web Hosting
What is Web Hosting and do I need it?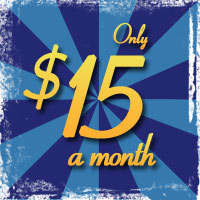 Web Hosting is essential. Hosting is the storage of all the files of your site. The HTML pages, the graphics, the images, the PDF's, etc. All the files are backed up daily, and there are redundant systems in place (multiple hard drives, processors, power supplies, etc), if any part of the server fails the service is switched to the backup server, to make sure your site is always up and running and available to clients.
Hosting also deals with the bandwidth, or the amount of data, that is sent and received for a given month.
WARNING! Many web companies try to sign you up for hosting packages that cost $30-$50 a month or more. Their business model is just to sign up as many clients as possible and provide little if no service.
Austad Productions believes in quality service at an affordable price. Our Basic Hosting Package is just $15 a month and is perfect for most small businesses.
What's the difference between free hosting & professional hosting?
The short answer is, "You get what you pay for."
The biggest drawback to free hosting for businesses is that the hosting company is allowed to advertise on your site and you don't have a say over what advertisements are shown, so it's quite possible to have a competitor's advertisement on your website.
Another reason free hosting is a bad idea for businesses is that you have to use their domain name instead of your own specific domain name. So instead of your customer going to an address like www.mycompany.com they will instead have to go to a name like www.geocities.yahoo.com/mycompany. First, this name does not look professional at all, and second it is much longer and your customer is less likely to remember it, which means you will lose out on their business because they can't find you.
In addition, free hosting is very limiting when it comes to options or upgrades. So as you find you need more space and bandwidth as your business grows you will have to then switch services and changing your domain name. Your clients may not be able to find you.
Lastly, since they are free hosting sites it's not uncommon for them to just go out of business, meaning your site is no longer online.
Professional Web Hosting
For a small monthly or yearly fee, professional web hosting provides you with more reliability and security and provides you with expert advice and help. Professional web hosting lets you use your own professional domain name (www.mycompany.com) and doesn't require you use your web space for its own advertising purposes.
Austad Productions handles all the technical configurations and if there are issues Austad Productions handles those as well. Why waste time dealing with web hosting when you could be spending that time on your own business or with your friends and family. You can be confident with Austad Productions as a member of your team.
Reliablity and Security
Multiple Servers to protect against mechanical failure.
Plenty of Bandwidth so your website downloads moving fast.
Secure rooms and redundancies to protect the system and your information.
Professionals doing the configuring and maintaining to keep your website online.
Basic Web Hosting Package:
10 Gb of Web Space
300 Gb of Monthly Bandwidth
Private Domain Registration
Company Email addresses
Guarantee up time of 99.99%
All technical configuration handled by Austad Productions
GREAT PRICE Only $15 a month

Additional Suggestions:
Austad Productions will also provide:
Austad Productions is your one-stop-shop for all your Web and Digital Media needs!

Mainly serving New Jersey NJ, Central New Jersey, Somerset County, Middlesex County, Hunterdon County, Morris County, Union County, Essex County, Manville, Somerville, Raritan, Bound Brook, South Bound Brook, Bridgewater, Bernardsville, Basking Ridge, Middlesex, Hillsborough, Morristown, New Brunswick, East Brunswick, North Branch, Branchburg, Gladstone, Peapack, Far Hills, Bedminster, Mendham, Chester, Dunellen, Edison, Old Bridge, Red Bank, Sayreville NJ.